All our boxes are 100% recycled
We can provide a full, "partial" and fragile packing service to meet the individual needs of each customer. We have a comprehensive range of quality packaging materials available to help protect all your items whilst in transit or in storage. Whether you choose a partial or full packing service with us, you will have peace of mind that your personal belongings are packed correctly by our professional packing team.
The packing side of your removal will usually take place the day before your "moving day". The team will arrive with our quality packing materials to pack and wrap everything up for you. This will ensure everything runs smoothly on moving day and all packing is completed ready to load on to the vehicle.
We would recommend using our packing service to ensure all your goods are protected and packed properly to avoid any damages when moving house. However should you wish to do your own packing we have a variety of packaging materials available to purchase.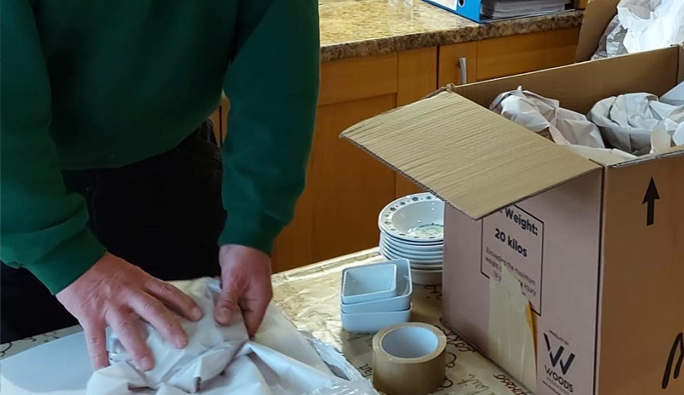 Packing possessions correctly
All packing materials and services will be clearly noted in the removal quotation.
Perhaps the most important aspect of moving house or relocating offices is the careful packing of goods and personal belongings.  This helps to make for a "stress-free" removal process.  Having completed all types of house and office moves, we are experienced in the proficient packing of antiques, confidential documents, valuable electronics, garments and fabrics on behalf of our customers.
We will assess and provide you with the best packing solutions for your requirements.
Contact us in one of the following ways to get your free no obligation packing quote