Full 1
Family run removal company based in Nottingham covering Nottinghamshire and the whole of the UK
Slide 2
Family run removal company based in Nottingham covering Nottinghamshire and the whole of the UK
Slide 3
Family run removal company based in Nottingham covering Nottinghamshire and the whole of the UK
home slide 4
Family run removal company based in Nottingham covering Nottinghamshire and the whole of the UK
slide 5
Family run removal company based in Nottingham covering Nottinghamshire and the whole of the UK
Why choose near & far removals
We are a family run removal company based in Nottingham, specialising in all aspects of house and office removals. Starting up in 2003, husband and wife team Martyn and Elaine, have grown the business over the years, which has gone from strength to strength now running a fleet of vehicles.  We pride ourselves on our highly reputable and competitively priced service to all our customers.
We carry out all move types from small flats to large 6-bedroom properties.  We cover the whole of the UK from North Scotland to the South of England. 
At Near & Far, we understand that moving house can be rather daunting. Our aim is to provide you with as much support and assistance as you require, ensuring the move to your new home runs as smoothly as possible, with all of our staff being DBS checked to reassure you that you and your possessions are in good hands.
We carry out both small and large removals in an efficient, thoroughly planned manner. Unlike other companies, your move will be the only job your dedicated team will carry out that day.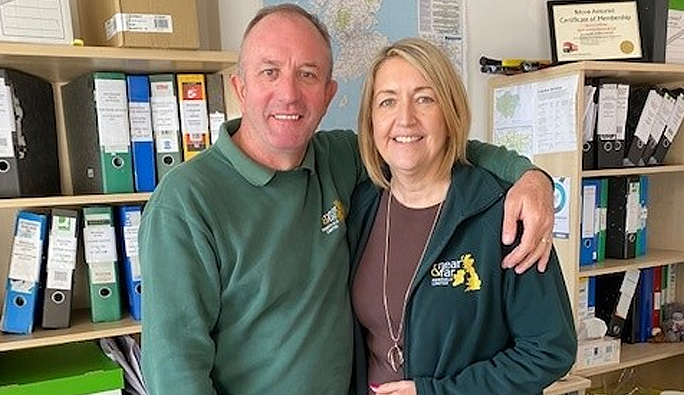 Contact us in one of the following ways to get your free no obligation quote
Not having moved for more than 30 years, we were nervous and selected our removal firm with care and following recommendations. As the day approached we received so much support and help from both the office staff and the removal team we knew it was the right choice. On the day, our worries and concerns melted away. They were efficient, kind, helpful, careful and methodical. Everything went super-smoothly and we were quickly settled in to our new home. We cannot recommend this firm more highly - they are excellent.
From the very first contact I found the company courteous and professional. Stress free quote, no pressure and ready to answer all questions. On removal day there was plenty of help, plenty of smiles and plenty of respect. I found the team very helpful and they couldn't do enough to help. Nothing was too much trouble and they made moving day a pleasure.
Last June Near And Far moved my things from my old home to a storage facility of my own finding. Yesterday they moved me from the storage facility to my home. They made a stressful day into a fun one and couldn't do enough to help me. This included changing my mind where furniture and digging a hole for a sculpture. Well done Martin and his team!
Cannot recommend this company enough. Due to very last minute confirmation of our moving date I called these guys 5 working days before I needed to move. Elaine in the office did everything possible to help and got us booked in and the communication from her was fantastic.
On the day the guys were on time and did everything and we had a lot to move! Fantastic company, can't thank you all enough for making a very stressful move much easier!
Friendly and professional team. Very accommodating to our needs to. All were willing to take a lateral flow test before arriving and wear a mask - it was the only moving company who accepted to do this.
The communication before the date was also great.
Ryan, Mark & Tony moved us today, what a superb team ( you know what that stands for) absolutely brilliant, efficient, polite, helpful, & caring, and gave 100% to our belongings, & we had such a laugh made our move so easy, fabulous people a big 'thank you' Margaret Simon, Freddie & Maddie xx
Really pleased that I chose Near and Far Removals for our move. They were very professional from the start - with a detailed quotation and followed up with a call to make sure that everything was clear.
On the day - the team worked so so hard, without a grumble - lugging some things up two flights of stairs - and delivered everything into place (including one very heavy piano) without a scratch or scrape.
Will definitely recommend to friends and family.
I have no hesitation recommending Near & Far Removals. We moved house last month and the service was extremely good. They were very organised, quick, careful and extremely polite. Really impressive team. Thank you!
I certainly recommend Near & Far Removals Ltd because of their excellent, caring service. The team were reliable, trustworthy, well organised and extremely helpful. Everything was packed with care and moved safely in the same day. Thank you
Absolutely brilliant service
Professional and polite in every way.
Definitely recommend.
This is the second time in four months that we have used Near and Far Removals Nottingham and I have to say that they are fantastic. Friendly, helpful, quick and very professional. I would highly recommend them.
Made moving home as easy as possible. Packed and moved within a day. Looked after my property, all carefully wrapped, packed and moved. Later took back packing boxes and paper. I'd recommend them and use again myself
Near and Far were brilliant the whole team from the proprietor, office staff and chaps moving us were respectful and efficient from the offset, giving sensible and realistic advise which really helped. We were downsizing and had to move half of the house into storage and then the other half to the new house. It was a two day move and they listened carefully to instructions and got everything right. we were delighted with the service and consider it to be excellent value for money and would highly recommend them.
We used Near and Far Removals following a recommendation, the team are great from the office team to the guys competing removal on the day. Competitive quote, no hidden costs, very personable, didnt have to lift a finger, absolutely fantastic service and will recommend them to other's
Flawless from start to finish (well, near finish but that's our unpacking speed!). The team were friendly and helpful while we had difficulties confirming a date, and weren't fazed by our mountains of stuff. The packing service was impressively speedy and thorough, and as yet we haven't seen any damage to our belongings. The moving day was long, but the guys just ploughed on cheerfully, whilst remaining polite and efficient.
Compared to other quotes, the service was excellent value and can't be faulted. They are even happy to pick up and reuse some of the packing materials, which is highly commendable. Definitely recommended, and would use again (not that I want to move any time soon).
I can highly recommend Near & Far for house removals. They were prompt, efficient, friendly, polite, understanding, I could go on!
They took the stress out of the house move, we couldn't have done it without them. A great team! Thank you
Excellent, friendly service from quote to completion. Very professional and efficient, took great care( especially with the piano) and very good at Tetras! All those involved were positive and made the move easy! We shared lots of laughs too!Thank you Near and Far- we thoroughly recommend you !
Excellent service from start to finish from the lovely ladies in the office to Martyn and his team making it a stress free move. Even Elaine popped in to say hello and see how things were going which was a lovely touch. Would highly recommend Near & Far to anyone.
We moved home with near and far removals. Cannot recommend them enough. Great bunch of lads very hard working . polite and very helpful . These lads are a credit to the company . Thanks very much
Highly recommend
I have now used Near and Far 3 times and every time they have been absolutely brilliant. Polite, friendly and couldn't be more helpful. I could not recommend them any more highly!
Hi all,
I wanted to say a MASSIVE thank you to everyone at Near And Far for your help and courtesy during our moving process. From the day we booked we felt like more than just a customer or client. The office staff were so supportive and helpful and always available.
On moving day, our 'home move' worries and concerns melted away as our three super efficient blokes did their job. We could not have wished for better.
Thank you all so very much and we wish you a very happy Christmas and a brilliant 2022.
Thank you again
Hello,
I hope you are well and looking forward to the festive break.
I have finally sat down in what feels like a week and just wanted to put into words how grateful and impressed I was on Friday with your team.
I was in a total fluster but the boys took it completely in their stride and was incredibly reassuring. They worked incredibly hard and I cannot thank them enough. My husband has already left a review but I just wanted to extend my thanks.
I will not hesitate to recommend you, the service was impeccable from enquiry to completion and made a very stressful situation that little more bearable!
Thanks again and I hope you and the entire team enjoy the festive break!